White-spotted Puffer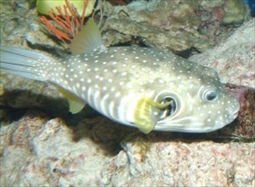 White-spotted puffer has multiple white spots on its body. Around its pectoral fins, these white spots connect with one another and make a wave-like pattern. The size and shape of these spots vary by each puffer, which makes it possible to identify each puffer.
They live in coral reefs and mangroves at the mouth of rivers in Indian Ocean and Pacific Ocean south of BosoPeninsula. They can grow up to be 40 cm in length.
They are omnivorous and eat shellfish, sea urchins, corals, starfish, seaweeds, and others.
At night, you can see these puffers sleep between or on rocks in this tank. You can also see them submerge in the dolphin water path in front of the aquarium.
Creatures of this water tank