Sea of Kagoshima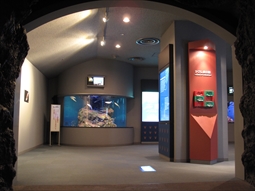 This is the "Sea of Kagoshima" on the 4th floor.
Displayed here are creatures that live around KinkoBay and other areas of the Kagoshima coast.
This water is located between subtropics and temperate regions. Here, you will find many coral reefs that are found in subtropics regions and seaweed bed found in temperate locations. Furthermore, Kinko Bay is 200 m deep, rare for an enclosed bay, and you will find many unique creatures.
Water tank of this area