Discovery Room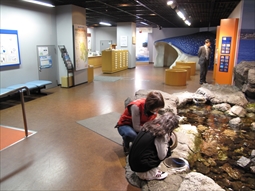 This is the "Discovery Room".
The theme of this area is "Water, Discovery, Experience".  Here, children can enjoy and learn about these things through experience.
They can look for creatures hiding in the shore/creek dioramas or take off the lid that looks exactly like a rock and closely examine the creature inside the box.
They can also examine the mysterious bodies of shellfish and crabs.
In the "Whale Shark House", shaped like a whale shark, they can look for treasures collected by aquarium staffs.
We strive to make this area fun, not only for children but for adults as well. There's always something new to discover here. You will surely find something new every time you visit this area. Please come and visit us again!
Water tank of this area