Survival Technique in the Sands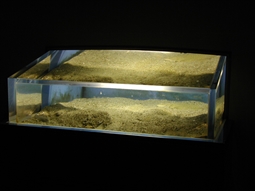 In this tank, you will see how fish like bastard halibut and righteye flounder survive in sandy areas where they have nothing to hide in.
Bastard halibut are famous hunters of the sand. Using their eye on one side, they get flat and become one with the sand and wait for prey to come by.
At a glance, the ocean floor filled with sand may seem lifeless, but there are many creatures living there. Take a look at survival techniques of creatures living in sand.
Creature fo this water tank