Seaweeds and Various Creatures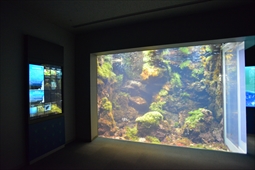 In this tank, you will be able to observe the behaviors of silver-stripe round herring, a representative fish of Kagoshima, throughout the year. You will also see water plants and invertebrates that live with them in well-lit shallow waters.
Some corals and sea anemones have phytoplanktons called zooxanthellae living inside them. They survive using nutrients created by these phytoplanktons through photosynthesis.
During winter and spring when water temperature is low, seaweeds like sargassum grow like forests under the sea.
Ocean floor filled with rich corals and seaweeds make great shelters for small creatures and create a suitable environment for a wide range of creatures.
Creature fo this water tank